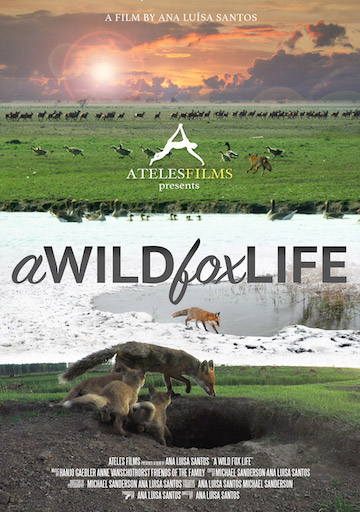 A Wild Fox Life
1 x 90 for France Televisions (France)
1 x 59min for NHK Wildlife (Japan)
1 x 50min for ServusTV – Terra Mater ( Austria)
Role(s): Director/Producer/Cinematographer/Editor
A Wild Fox Life, chronicles the lives of three foxes, Hunter, Scar and Red who live on a large open savanna landscape in the Netherlands. Through the eyes and voice of Hunter, we follow how she grows up from being a 6 week old fox cub to raising cubs of her own. Ana Luisa Santos followed and filmed these red foxes in the Dutch nature reserve Oostvaardersplassen.
In this rare wildlife film, where every animal you see is wild and free from manipulation, we delve into secret lives of truly wild foxes. Here, they live and behave in a world without humans where they are the top predators and scavenge carcasses of large herbivores. Hunter hunts geese with high speed chases and Red shows his paternal tenderness towards his newborn cubs. We get to know the three siblings who take different paths in becoming adults.
Come and take a journey inside the skin of Hunter, who will show you her side of the story in her wild fox life.
See Ana's other work and productions